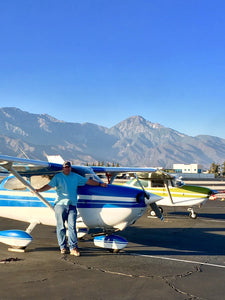 N733JA 1977 Cessna 172N - Rent for $150.00 PER HOUR ($15.00 per tenth) CLICK FOR MORE DETAILS!
N733JA 1977 Cessna 177N with BRAND NEW ZERO TIME 180HP Air Plains engine conversion, power flow exhaust, Flint Aux tanks which hold an additional 24 gallons for long trips, Avidyne 440 touch screen GPS, 2 G5 electronic flight instruments, JPI engine monitor, electronic fuel gauges, electronic tach, ADS-B In and Out, beautiful paint job, leather interior, panel mounted mini ipad holder. It's a great trainer for all levels, as well as a superb cross-country plane.
 When paying for your flight time in the shopping cart, enter your time without decimals.
 Example:  1.3 hour = 13   .3 hour = 3   1.0 hour = 10